On Wednesday, I was the very first American, Republican, and/or pro-Republican to accept an invitation to
a debate
on the Uvalde tragedy in Texas on French television.
Among the things I brought up during the news show on the BFMTV channel, or tried bringing up — there were three people against me, after all, or five, counting the two moderators (sic) — were the 2011 massacre of 77 people in Norway, most of them teenagers, as well as other non-American mass killings which I mentioned years ago in a rebuttal letter to the New York Times — see how the French drama queen seated next to me goes almost berserk when I try to broach the subject of the 10 to 15 victims each in various German and Finnish schools or universities.

Beyond that, my main message was the "two taboo subjects" on the gun control issue, which are the same as those discussed in a piece from National Review's John Fund: 1) the leftists' "tolerance" for and "lack of judgment" against people with mental illness (leading the latter to being freed from psychiatric hospitals); in addition to 2) "gun-free" zones, praised everywhere, but actually counterproductive.

L'Amérique sous le choc après la fusillade dans une école au Texas - 25/05

Au lendemain de la fusillade qui a tué au moins 19 écoliers et deux enseignants dans une école

élémentaire d'Uvalde au Texas (États-Unis), les réactions attristées et choquées se sont succédées ce mercredi. Outre-Atlantique, l'invariable débat sur la détention et la régulation des armes à feu est relancé par un Joe Biden affligé. On y revient avec: Antoine Heulard, correspondant de BFMTV à Washington (USA). Erik Svane, membre des Républicains Overseas. François Durpaire, consultant États-Unis de BFMTV. Amandine Atalaya, notre éditorialiste politique. Ulysse Gosset, notre éditorialiste politique internationale. Et Mahali Chalais, journaliste de BFMTV

Le | Durée : 22:59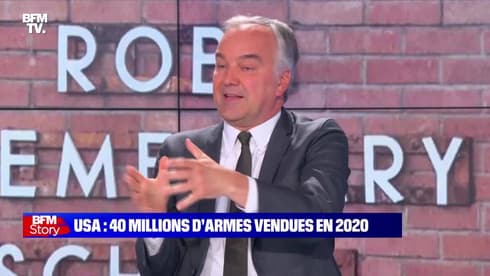 As it happens, I had taken a train to Switzerland that morning when, not an hour later, I got not one call from the BFMTV channel, but two from a duo of reporters independently, almost at the same time, for two different news shows, neither knowing a fellow colleague at the same station was calling me, within a minute or two.

I immediately decided to cancel my trip, bailed out of my TGV Lyria at the very first stop (Dijon) and ran to another quai — with four bags and one cat — to get on the next train back, leaving only four minutes later.
Update: I have since penned this post: In View of the Texas Mass Murder, Should the NRA's Convention in Houston Be Cancelled?
Related:

• What Is to Blame for the Connecticut Shooting?
Does the Blame Lie with the Right to Bear Arms Or Can It Be Found Elsewhere?
(Ten-year-old post, but still entirely pertinent)
•
T'is easy to tout the success of gun control laws in the rest of the Western world when you ignore certain pertinent facts from Europe
•
Mourning "all lives lost to gun violence" is like calling the people murdered on 9/11 victims of "airplane violence"