On the 60th anniversary of
D-Day
, issue 21 (June 6, 2004) is naturally devoted to the "Liberators". "
Le Monde 2
commemorates the event by paying homage to all the liberators, anonymous or little-known, French and foreign, heroic and modest, who restored democracy" in France. The cover features a huge portrait of an anonymous French resistant, along with five tiny photos, one of an anti-
Hitler
German, another of a GI landing at
Omaha Beach
, one (modern one) of the Bussy-Varache viaduct which the French resistance blew up, and two (!) of the communist leader who gave the order to set the dynamite.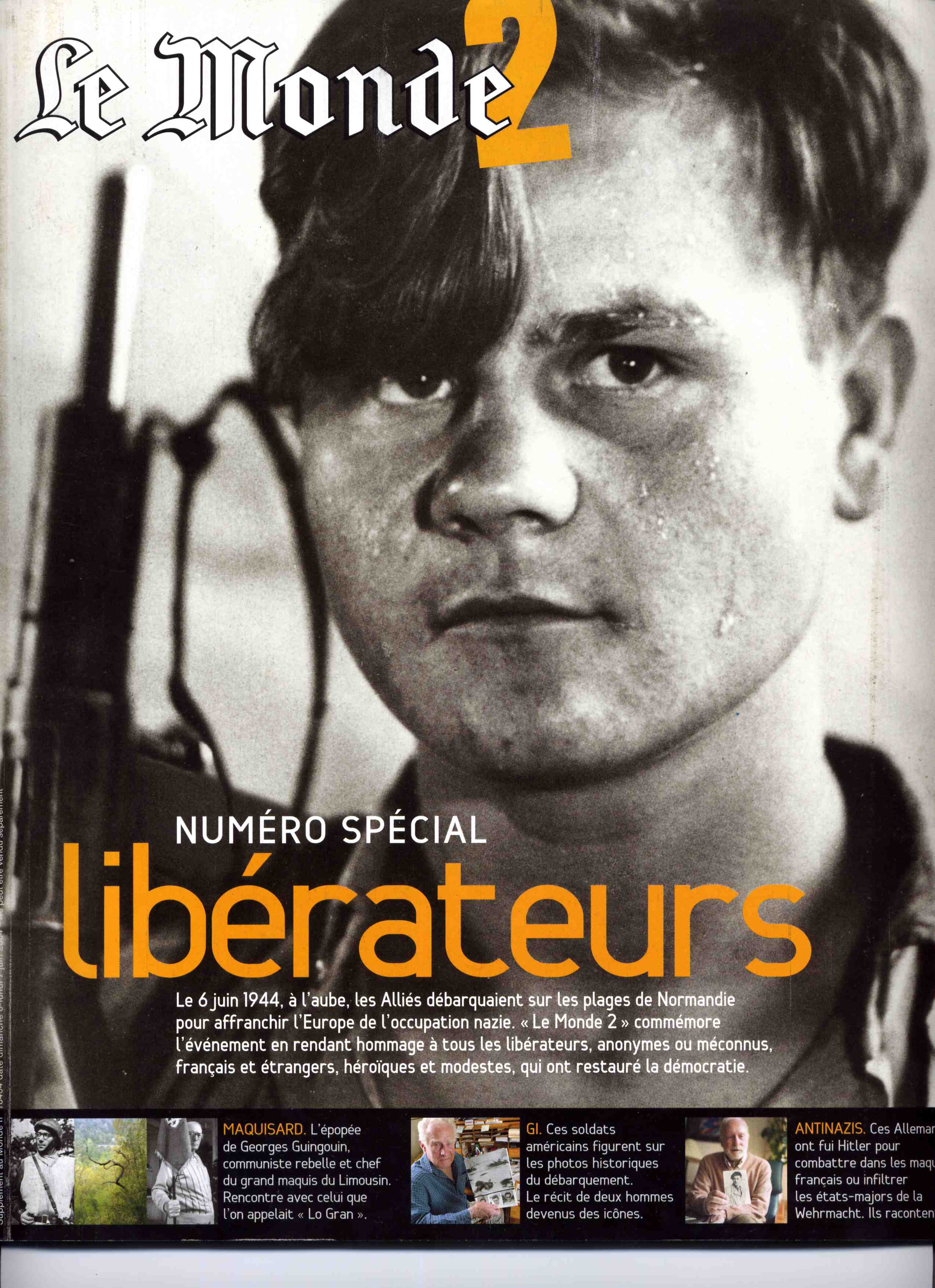 Inside, Edwy Plenel helpfully reminds us that "on the Eastern front, from Stalingrad to Kursk, the Germans lost a total of 6 million soldiers versus only 250,000 in Normandy. History does not moralize. American or Soviet, there is no hierarchy in sacrifice. But the memory of one cannot wipe away the other, on the pretext that American democracy won over Russian communism." Uh-huh. Good thing to know…

On the following page, Geneviève Brisac speaks of the "absurdity of war" and calls for more restraint in her Operation Overlord article entitled… "Operation Overdose". Next, Raphaëlle Bacqué does lunch with Admiral Philippe de Gaulle, who remembers how his father told him on June 5, 1944, "Ça y est … The French will be the first to land in France."

An interview of Jean-Pierre Azéma has the historian explain France's role in Operation Overlord to Michel Lefebvre (remember now, the enemies are the Germans!): "De Gaulle will not restrain his anger. He refuses to participate in this travesty. He will not caution an Americanized France. Voices are raised. Eisenhower, furious, tells him to go to hell. As for Churchill, he is said to have commented "Send him back to Algiers, in a cage if needed." But de Gaulle keeps resisting. He lets it be known that he will address the French people himself. and, on June 6, he pronounces one of his most beautiful speeches, asking the French to obey noone but a French administraion, launching a vibrant call for war, 'France will once again become France'." (Note that de Gaulle's "resistance" — nice choice of words — is to… the perfidious Anglo-Saxons.)

Then comes Francis Marmande's glorious article to the memory of the communist party's "Georges Guingouin, the liberator of Limoges". Ten pages devoted to the "mythical resistant" known as "The Madman of the Woods". (The interview with Azéma on D-Day itself lasted five.)

Then it's Georges Marion's four pages devoted to "the Germans of the Shadows", a resistance organization that infiltrated the Nazi military machine ("Most often they were young communist Jews relocated in France before the war, their families having fled the Nazi oppression") followed by Eric Leser's four pages (nice balance) devoted to two GIs who are the subjects of two famous photos (one of Robert Capa's blurry Omaha Beach pictures and another of a unit holding a captured Nazi flag).

We then have Dominique Frétard's three pages of paintings of medical personnel which appeared in 1945's Men Without Guns (always good, in today's Europe, to present a more pacific side to the conflict), before going to Jean-Michel Normand's text accompanying 12 pages of full-page portraits of resistants (including the young face that graces the cover), all of them anonymous.

The archive section finally gives us some meat to sink our teeth into: D-Day hour by hour, with various comments, 19 pages in all (although there is nothing uncommon about such, since Le Monde 2's archive section are typically long and weighty). Invariably, a veteran is made to opine that, unlike World War II, in no case does the Iraq intervention represent "a just and beautiful cause". (Strangely, no other veteran is quoted on the Iraq war, almost as if when encountering people and soldiers who do support the war (or Bush), the French press does not make much of that).

But we skipped one piece: Emmanuel de Roux's article on the local collectioners of D-Day memorabilia, "from the gaiter button to the assault tank", which I wanted to keep until the end. Those fervent amateurs "have sometimes gathered stockpiles so important as to form the basic collections of museums, large and small, private and public."

Here is what is interesting in the reflection of today's European sophisticated, humanistic, visionary (and fashionable) thinking: One 57-year-old dentist from Bayeux spent his nights collecting, and by the 1970s Jean-Pierre Benamou had assembled all kinds of matériel, from resistance tracts and military berets to the wreck of a British Spitfire. And in 1981, the township of Bayeux agreed to build a museum to house the entire collection. "A convention links Jean-Pierre Benamou to the city until 2020. Thereafter, Bayeux will become the owner of the collections."

This is where the problems start. Remember what Brisac said in her column? Remember the subject of the paintings from Men Without Guns? Remember the number of pages in this Le Monde 2 issue devoted to pacifists (or so-called pacifists) and to members, armed or not, of France's visionary society of humanism and solidarity? Remember the (relatively) few pages devoted to the American and British soldiers who stormed Utah, Omaha, Gold, Juno, and Sword beaches and made D-Day what it was? Listen to this: "Sparks have been flying between the collector and the new town hall which wants to dispose of the belligerant side of the establisment in order to transform it into a sort of pacific memorial, modeled after that in Caen."

Now, ain't that nice? It's peace, folks. Peace!

In another time and another place, speaking of "the brave men, living and dead, who struggled here" and of the "poor power" of politicians to "add or detract" in subsequent speechifying, one man said that

The world will little note, nor long remember what we say here, but it can never forget what they did here.
In modern Europe, the balance between the "honored dead" who "gave the last full measure of devotion" and self-important politicians who utter smug platitudes has been inverted. Please note that for today's verbose Europeans, self-declared pacifists or not, a declaration of principles would read more like this:
The world can little note what the brave men did here, but it must never forget what we say here.
For the benefit of Bayeux's vain and conceited politicians and citizens, I will provide
a translation
of the above
Abraham Lincoln
sentence in French:
Le monde remarquera peu ce que nous disons ici et il ne s'en souviendra guère, mais il n'oubliera jamais ce que des braves ont fait en ce lieu.
---
Surprize! In issue 23 (June 20), we have a token article, the kind of rare jewel that is supposed to convince everybody that everybody's opinions are
equally
represented: of course, Nicolas Bourcier's article is only one page long, he describes
Noam Chomsky
as a "committed leftist intellectual", and he mentions
www.punkvoter.com
without mentioning
the Punkvoter Lies website
, but still it's refreshing to read about "Bush's punks and fans". Nick Rizzuto and Michale Graves oppose "leftist propaganda" and say as much on their websites and in the songs they sing. "Take Johnny Ramone, he fully supported
Ronald Reagan
", says Rizzuto, the founder of
the ConservativePunk.com website
(I'll bet Douglas didn't know
that
! ;o) ), while former Misfits singer Graves protests: "But the establishment is them [those who sympathize with Mike Burkett's anti-
Bush
movement]! While everybody agrees to hold progressive ideas, the real rebels today are the conservatives."
Otherwise, issue 23 shows us the Iraq wrestlers preparing for the Olympic Games in Colorado Springs. One might have thought that a journalist might have made a story out of the incredible chance Ali Salman and Muhammed Mohammed got, which is indeed how the two men feel. (Not to mention the fact that they will not be tortured for not winning medals.) Needless to say, Paul Miquel had to make much out of the fact that trainer Jamal Hasson happened to comment nonchalantly that half the population "think we have gone into exile in the occupier's country".

We are also treated to Samuel Blumenfeld's lunch with Paul Verhoeven, who compares Che Guevara to Jesus and who says, unbelievingly, that the inspiration for 1997's Starship Troopers came from… the state of Texas, then headed by a governor by the name of George W Bush (!)

---
Issue 24 (June 27) presents "Apocalypse Food", a story of
Morgan Spurlock
's
Super Size Me
. "As, through fast food, it's a whole way of life that America exports," weeps Samuel Blumenfeld, "the whole world should soon fall ill." Then it's over to an interview Nicolas Bourcier conducted with the musician
Moby
, who is MOBYlized against
Bush
. Tour de France oblige, the
Monde
archives present
Jacques Anquetil
(along with the five-time champ's daughter dismissing of doping as "banal"), while the archives of the subsequent issue (# 25, July 4) gives us a portrait of the father of today's Turkey, "Atatürk the Modern Man".
In issue 27 (July 18), Peter Turnley compares two military funerals in America (Oklahoma and South Carolina) with funerals in Baghdad and Bassorah, including those of "Iraqi combatants". War, war itself, is the culprit.

That seems to be the message, too, of Jan Krauze's "The Forgotten Insurrection", in which a Pole, then 23, says that "the Soviets played a hideous, cynical role" in the Warsaw uprising of 1944. Fortunately for Le Monde 2's readers (and for the French campaign to paint the Allies in a less-than-bright light throughout 2004), Witold Zaleski "seems to be just as resentful towards the Western allies, who could have done much more to help the insurrectionists".

Samuel Blumenfeld gives us a biography of "the richest producer in the world", underlining the supposed "binary diagram at the basis of all of [Jerry Bruckheimer's] films: good against evil, civilization against barbarism, America surrounded by a hostile world." Blumenfeld, who unleashed a broadside againt Black Hawk Down for not showing the racism of ordinary American soldiers (!?), has another article on Ridley Scott's Kingdom of Heaven, in which, without further ado, he castigates Cecil B DeMille for his "soap crusades" which "defies any historical plausibility" (not historical truth, historical plausibility). "In [Scott's] celestial Jerusalem, open to all, the goal is not so much to rewrite the past as to consider the future in a different way, without crasades, and in peace."

In that perspective, we head for the Le Monde archives, which is devoted to the "fighter for the Palestinian cause". "Arafat the Survivor", we are told, "has incarnated for almost half a century the hopes of the Palestinian people for the building of an independent state." "'The head of the PLO has lived through a thousand hardships" writes Simon Roger. "But he remains an interlocutor on the path to peace in the Middle East who can't be ignored."

---
In issue 28 (July 25), we have another token article. Frédéric Joignot's "The Anti-Ecologist Ecologist" is about
Bjørn Lomborg
, the author of
The Skeptical Environmentalist
. Of course, it goes heavily into "Lomborg's strongest distortions and weakest analyses", it uses sentences like "after a while, a sense of malaise arises", and it gives the Danish author the kiss of death by linking him to
the devil incarnate
: "American ecologists have noted that an unofficial text drawn up by the
White House
uses most of
Lomborg
's arguments, in order to justify their refusal to sign the Kyoto agreements." (Well, if the arguments happen to be true, or mostly true, or even only partly true, why
shouldn't
the Bush administration
use them; why, indeed, shouldn't
everybody
be using them?!) "They accuse the 'skeptical environmentalist' of being supported by oil and anti-environmentalist lobbies." Well, if you can't, or won't, enter into debate, better to dismiss the messenger through character assassination by calling him a fiend in the pay of the enemy,
n'est-ce pas
?
Oh, this is good: in its Le Monde archives section, issue 28 gives us a portrait of "The Soul of Barcelona". Who might that be? A poet and best-selling author who fought against Franco. Oh, and of course, Manuel Vazquez Montalban was also a communist with a "political commitment without fault". A good person, needless to say. And to show how human(istic) he was, we are informed that cooking was his passion. Of course, what the militant fought against was American foreign policy and what he refused to do was live on
a planet of resigned and guilty monkeys covered, apparently, by dried seas of blood spilled by the liberal-capitalist society busy with covering the Earth with hamburgers and Kentucky fried chicken served by deliverymen wearing the UN's blue helmets.
(Oh yes, didn't you know? it is only when the
UN
opposes
, or
seems
to oppose,
Washington
that the international institution is praised; when it happens to seem to be acting in lockstep with Uncle Sam, it is — as usual — denigrated and dismissed as a stooge — like everybody else.) Yes, says
Raphaëlle Rérolle
, the Catalan author … was not only a cook, but the hero of his detective novels refrains from eating "banal globalist food";
non
, Pepe Carvalho "tastes with an incredible talent meals with a well-marked identity". How much more lucid can an author get? Oh, and, by the way, did the militant author ever do, or say, anything about Stalin's gulags and Mao's millions of victims? A "communist until the day he died, Montalban never stopped wondering about the [Stalinist] ideology." Wow! Quite an impressive display of activism.
Bueno
to have your priorities straight,
Señor Montalban
…
Go read about issues # 1 to 20 and # 29 and following…